A series of violent weather systems beginning December 10th swept across the midwest. The weather quickly developed into a derecho, a widespread and long-lived wind storm associated with a line of thunderstorms. States from New Mexico to Michigan experienced hurricane-force winds. Yesterday, the most number of hurricane-force (75+ mph) thunderstorm wind gusts in a day (55) were recorded. Also, the storms spurred deadly tornadoes, fires, and dust storms leaving multiple communities in devastation.
Severe Weather Impacts
Over 100 million Americans were under some type of weather alert during the storms. Specifically, as many as 36 million were under high-wind warning, with parts of Colorado experiencing 100 mph winds. At least 19 tornadoes were reported across the Midwest. This marks the first December tornados for Iowa and Minnesota. Along with the high winds, blinding dust storms swelled over parts of southeast Colorado and western Kansas. Wildfires erupted in Kansas and the Texas and Oklahoma panhandles. All of this occurred during record-setting warmth in the central states, for the third time this month, which helped fuel the intensity of the extreme weather. Both Iowa and Wisconsin saw their warmest December weather on record yesterday afternoon.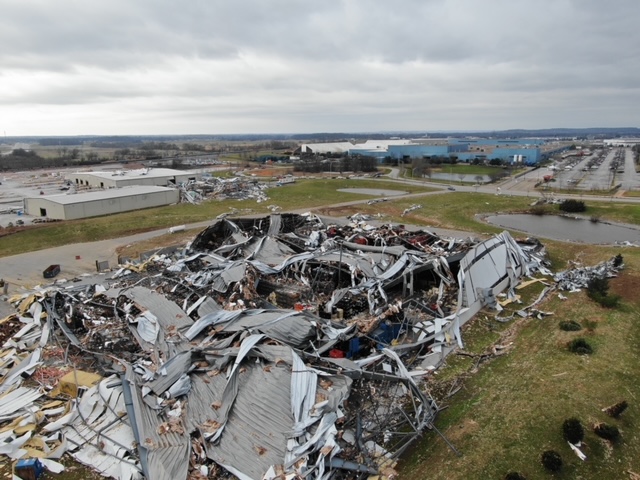 Kentucky Tornadoes
The hardest-hit state by far was Kentucky. An outbreak of at least five tornadoes tore through more than 200 miles of the state. Unfortunately, seventy-five people are dead and 16 remain unaccounted for. Additionally, at least one tornado was considered an EF4, the second most intense classification. The tornadoes were responsible for wiping away more than 1,000 homes. Subsequently, tornadoes tossed around cars and trees. About 26,000 homes and businesses were without electricity. State authorities said the sheer level of destruction was hampering their ability to assess the total damage.
Redzone sends sincere thoughts and prayers to those impacted. In addition, for those looking to help, there are numerous relief funds accepting donations. See below.
Team Western Kentucky Tornado Relief Fund: Gov. Andy Beshear has established a fund to assist tornado victims and begin rebuilding. Donate at secure.kentucky.gov/formservices/Finance/WKYRelief or by sending a check to Public Protection Cabinet, 500 Mero St., 218 NC, Frankfort, KY 40601.
American Red Cross: Visit redcross.org, call 1-800-RED-CROSS or text REDCROSS to 90999.
Source: Washington Post, CNN