Below are summaries from the National Significant Wildland Fire Potential Outlook. The National Interagency Fire Center published the outlook for the period of November 2023 through February 2024. Additionally, the full wildfire outlook can be located here.
Year-to-Date Statistics:
| | | |
| --- | --- | --- |
| Year-to-date statistics | Number of Fires | Acreage Burned |
| 2023 (1/1/23-10/27/23) | 48,681 | 2,521,837 |
| 10-year Average (2013-2022) | 49,015 | 6,560,411 |
| Percentage of 10-year Average | 99.3% | 38.4% |
Source: https://www.nifc.gov/fireInfo/nfn.htm
Observations in October:
Significant fire activity generally decreased through October as the national preparedness level dropped from two to one October 13. However, very dry and occasionally windy conditions at the end of the month from California into the greater Four Corners area resulted in a brief uptick in activity across California, the Southwest, and southern Colorado. Moderate initial attacks and periodic large fires continued in the Southern Area as well, mainly in the Deep South and southern Appalachians. Significant fire activity diminished across northwestern Canada as well, with the commitment of US resources ending in early October.
Early and late October precipitation events in the northwestern US continued to slow significant fire activity, with most large fires now contained. However, moderate to extreme drought continues along and west of the Cascades stretching into northern Idaho and northern Montana. Extreme and exceptional drought expanded and intensified across east Texas through the Lower Mississippi Valley, with continued warmer and drier-than-normal conditions. Much of the Southwest and Four Corners had warmer and drier than normal conditions, with drought continuing across much of Arizona and New Mexico.
Warmer and drier than normal conditions spread across the Ohio and Tennessee Valleys into the southern Appalachians as well, with expansion and intensification of drought. Periods of precipitation, occasionally falling as snow, fell across the northern Rockies east of the Divide and into much of the northern Plains and western Great Lakes, with a reduction in drought classification across the Upper Mississippi Valley and western Great Lakes.
US Drought Status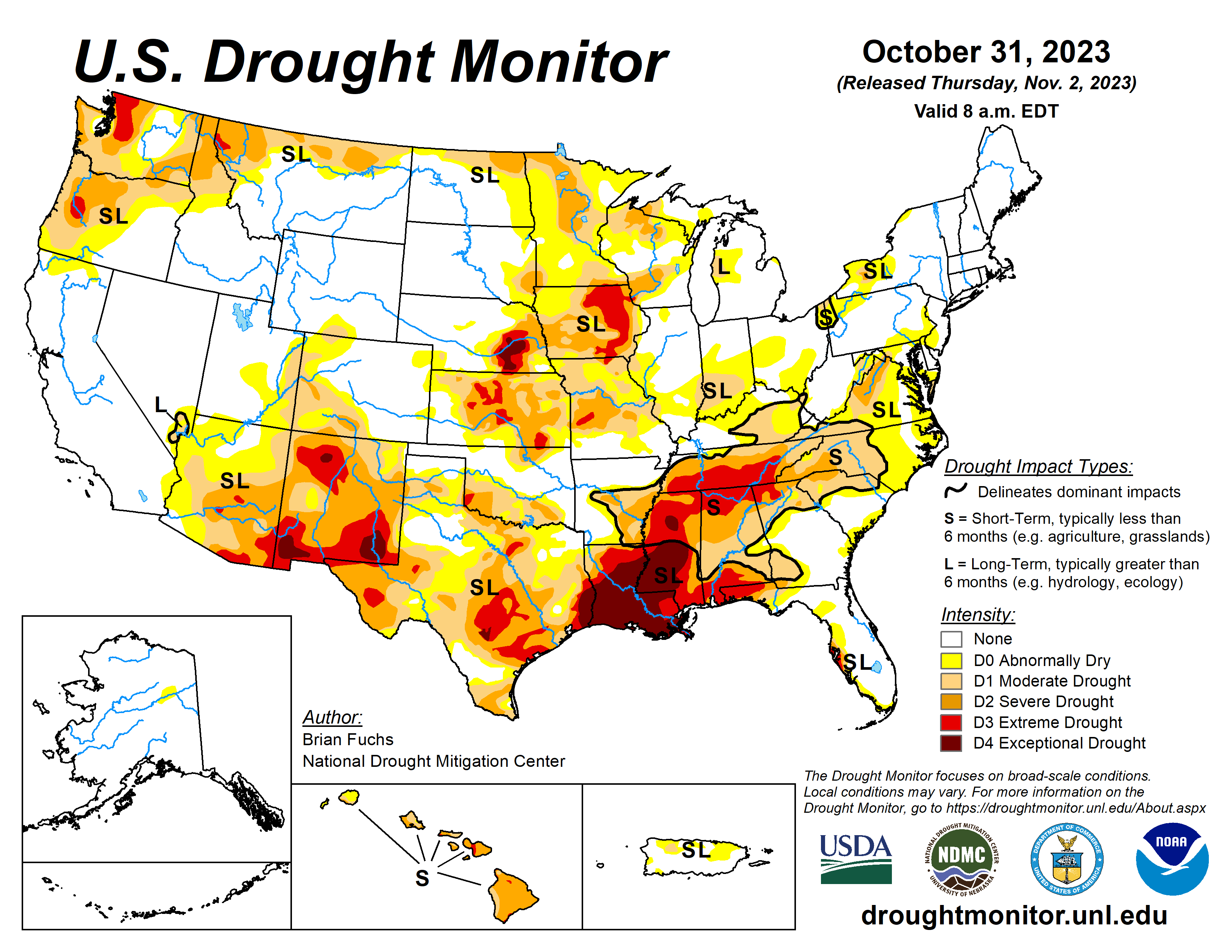 Extreme to exceptional drought continued across much of the Lower Mississippi Valley with a degradation of drought by multiple classes across the Tennessee Valley, and drought also expanded into much of the Ohio Valley and southern Appalachians. Drought continued across much of the Southwest, with intensification of drought mainly observed across central Arizona into northern New Mexico. Drought continued in the Pacific Northwest into northern Idaho and northern Montana, but some modest improvement was observed, mainly across portions of western Oregon and northern Montana. The above normal rainfall across much of Texas into portions of Oklahoma the latter half of the month resulted in an improvement of drought, but drought continues to persist, with extreme to exceptional drought continuing over portions of central and north Texas.
Wildfire Outlook for November to February:
Above normal significant fire potential is forecast across Hawai'i, Louisiana, much of Mississippi, and all of Alabama during November. Normal potential is forecast across the contiguous US in December. However, above normal potential is forecast to continue in Hawai'i, where it will continue through January and February. Below normal potential is also likely from the central Gulf Coast through Florida in January, and expand to include much of Texas, Oklahoma, the Lower Mississippi Valley, and Southeast in February as confidence is high for above normal precipitation this winter.
Source: NIFC