Below are summaries from the National Significant Wildland Fire Potential Outlook, provided by the National Interagency Fire Center, for the period of October 2022 through January 2023. Additionally, the full wildfire outlook can be located here.
Year-to-Date Statistics:
| | | |
| --- | --- | --- |
| Year-to-date statistics | Number of Fires | Acreage Burned |
| 2022 (01/01/22 – 10/06/22) | 54,863 | 6,933,854 |
| 10-year Average (2012-2021) | 45,837 | 6,488,528 |
| Percentage of 10-year Average | 119% | 108% |
Source: https://www.nifc.gov/fireInfo/nfn.htm
Observations in September:
Significant fire activity continued across the Northwest, northern Rockies, California, and northern Great Basin through early September. Precipitation events reduced fire activity mid to late September across these areas. Although, fire activity did continue in portions of the Northwest, Idaho, and western Montana during elevated and critical fire weather. Fire activity increased across the Southern Area, especially late in the month. Above average year-to-date acres burned and number of fires for the US.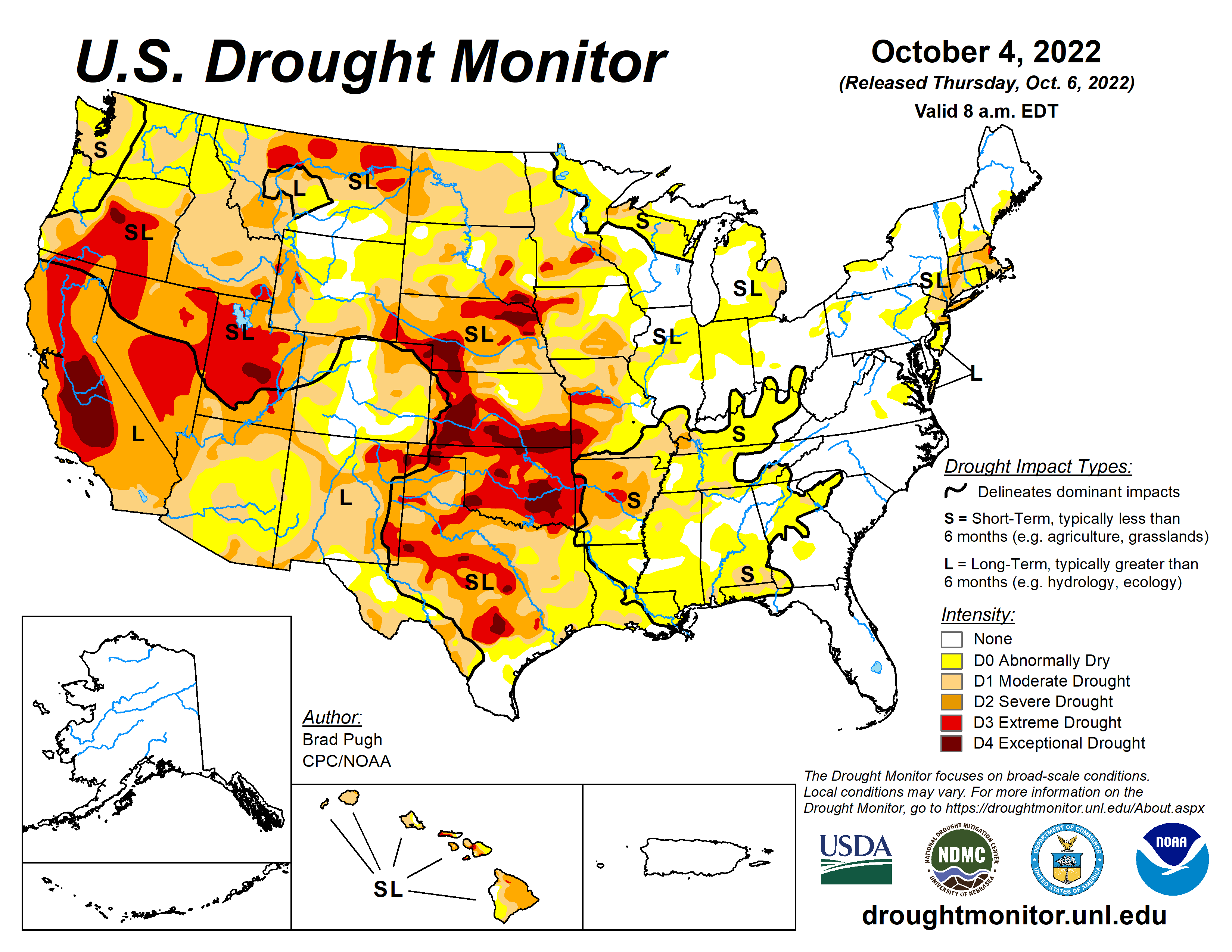 Drought continues in much of the West, with expanding and intensifying drought in portions of the Northwest, Idaho, and Montana due to warmer and drier than normal conditions in September. Most of California received well above normal rainfall for the month and much of the Northeast did as well. This has helped to reduce drought in New England. Warmer and drier than normal conditions also occurred in much of the southern and northern Plains into parts of the Southeast, Texas, and Midwest.
Tropical Storm Kay moved just offshore southern California around mid-month, with moisture spreading into portions of the Desert Southwest and southern California producing heavy rain, which eventually moved into the Great Basin as well. Heavy rain fell across northern California during the third week of September, which significantly reduced fire activity and potential. Widespread wetting rain fell across the northern tier of the West and the greater Four Corners region during mid to late September. However, below normal precipitation was observed this month west of the Cascades and portions of the Inland Northwest into the northern Rockies. This has let some large fires continue to burn in these areas during warmer, drier, and windy periods.
Hurricane Ian made landfall September 28 as a category four hurricane near Fort Myers, Florida. Widespread heavy rain fell on the Florida Peninsula and eventually stretched along and east of the southern and central Appalachians to the southeast Atlantic coast. New England received multiple rounds of wetting rain, which helped alleviate drought and fire potential concerns. Much of Oklahoma and Texas into the Lower Mississippi Valley and central Gulf Coast remained dry with increased fire activity. Hurricane Fiona dropped heavy rainfall on much of Puerto Rico, with hurricane force winds across much of the island.
Wildfire Outlook for October – January:
Near normal temperatures and near to above normal precipitation are likely for portions of the Pacific Northwest and northern Rockies into early winter. Near to below normal precipitation is forecast for the rest of the West through the southern and central Plains into the Gulf Coast and Southeast. Near to above normal temperatures and near normal precipitation are forecast for the Midwest through the Mid-Atlantic and Northeast.
Above normal significant potential is forecast for much of Oklahoma, Texas, the Lower Mississippi Valley, and central Gulf Coast into December. Above normal potential is likely for much of the Mississippi Valley in October and the western Ohio Valley through the Ozarks into November. Southern Area is forecast to return to near normal significant fire potential during January.
The Transverse and Peninsular Ranges of southern California to the coast, areas prone to Santa Ana winds. Above normal significant potential October through November, before returning to normal potential in December is forecasted. The Hawai'ian Islands will continue to have above normal potential, especially lee sides, through November before returning to normal potential in December. All the US is forecast to have near normal significant fire potential during January.
Source: NIFC